Stoneclaw is a Broad-shouldered black tom with blue-gray tabby markings. He is a very muscular ThunderClan warrior. He has green eyes. All Stoneclaw wants is what's best for his Clan. He believes he should be made deputy after his father, Grassfur. His ambition has a grip on him that not even StarClan themselves can destroy.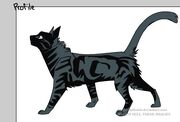 Stonekit
Apprentice
Edit
Stonepaw
Stoneclaw
Place of No Stars trainee
Edit
Stoneclaw
Stoneclaw
Grassfur
Brother(s)
Edit
Redkit, Racerbird, and Thunderstorm
Sister(s)
Edit
Bramblefire
Half-brother(s)
Edit
None
Half-sister(s)
Edit
None
Grandfather(s)
Edit
Thunderheart and Longleg
Grandmother(s)
Edit
Blossomtripe and Owlfur
Great-grandfather(s)
Edit
Lightningclaw, Brokenface, and Shadowstep
Great-grandmother(s)
Edit
Blazepelt, Gingerblossom, and Hollykit
Smallfoot, Stormheart, and Mosskit
Silverstorm, Driftwillow, and Treekit
Cousin(s)
Edit
Dustflower, Oakwish, Pineclaw, Willowgaze, Dapplekit, and Frostkit
Grayfur
Ravenstar, Cherrytail, and Lionpaw
Grandkit(s)
Edit
None
Relationships
Edit
Stormheart, and Grasspelt
Nightstar
Love Interests
Edit
Grayfur (mate)
Education
Edit
Mentor(s)
Edit
Squirrelfeather, Grasspelt (indirectly), and Shadowstep (Dark Forest)
Apprentice(s)
Edit
Racerbird
Fanfictions
Edit
Thunderheart's Legacy
Edit
Stoneclaw is a main character in Thunderheart's Legacy. He is in "Section Four: Stoneclaw's Ambition."
Main points
Edit
Thunderheart gives Stoneclaw a prophecy: "Two of a legend, two of a kin, two of a legacy that holds the universe in its jaws." (Page 59)
Stoneclaw is captured by a twoleg with Grassfur and Stormheart. (Pages 63-64)
Stoneclaw fights a badger, which in the end, steps on him, knocking him unconscious. (Page 74)
Stoneclaw takes training from Shadowstep in the Place of No Stars. (Page 76)
Stoneclaw recieves a prohecy from a hostile rogue: "The night will cast a shadow across the stones, and the forest shall tremble." (Pages 78-79)
Stoneclaw lets ambition take hold on his soul. (Page 79)
Stoneclaw gets an apprentice. (Page 79)
Stoneclaw becomes mates with Grayfur (Page 82)
Stoneclaw kills his own father, Grassfur. (Page 84)
Stoneclaw becomes deputy. (Page 85)
Stoneclaw is killed by Ravenstar, his own son, after Stoneclaw kills Lionpaw, his other son. (Page 86)
Adderstar's Destiny
Edit
Coming soon
Cats killed by this cat
Edit
Two: Grassfur and Lionpaw
Post-Death Residence
Edit
Place of No Stars (AKA Dark Forest)
Cause and age of death: killed by Ravenstar; 24 moons
Trivia and Quotes
Edit
"Racer doesn't belong in the Clan." - Stoneclaw to Grassfur.
"Enough of this game! You told me you'd ask, and you haven't. Do you want to make history? You must have kits to carry your legacy!" - Shadowstep
"I will, Shadowstep." - Stoneclaw
--Stoneclaw and Shadowstep about Stoneclaw asking Grayfur to be his mate.
Stoneclaw's ambition is based off of Thunder's own hunger for power.
Ownership
Edit
Thunderheart...with his sidekick, Grasspaw! 16:50, July 19, 2015 (UTC)