Spottedpetal is a lithe ThunderClan she-cat with calico markings and green eyes. Spottedpetal is very loving and caring. She believes in helping the Clan by supplying life, not by supplying more of a fighting force. 
Spottedpetal is torn between her love for Grassfur and her love for Darkpelt. 
Spottedpetal

Allegiance

Current Clan
ThunderClan
Past Clans
None

Description

Fur color
Tortoiseshell
Eye color
Green
Age
42 moons
Fur length
Short
Physique
Lithe and slender

Family

Father
Thunderheart
Mother
Blossomstripe
Littermates
Smallfoot
Other siblings
Silverstorm and Driftwillow; Treekit, Mosskit, and Stormheart
Current mate
Darkpelt
Past mates
Grassfur
Kits
Redkit and Stoneclaw; Bramblefire, Racerbird, and Thunderstorm

Fanfictions

Living
TL
Dead
None

Roleplayers

Current roleplayer
Thunder
Past roleplaters
None



Spottedkit
Apprentice
Edit
Spottedpaw
Spottedpetal
Spottedpetal
Blossomstripe
Brother(s)
Edit
Smallfoot, Mosskit, and Stormheart
Sister(s)
Edit
Silverstorm, Driftwillow, and Treekit
Half-brother(s)
Edit
None
Half-sister(s)
Edit
None
Grandfather(s)
Edit
Lightningclaw and Brokenface
Grandmother(s)
Edit
Blazepelt and Gingerblossom
Great-grandfather(s)
Edit
Jaggedtooth and Tigerfire
Great-grandmother(s)
Edit
Cherrypelt and Poppyfoot
Whitestripe
Scarleg and Sandfur
Cousin(s)
Edit
Sootflank, Skykit, Firepelt, Cheetahfur, and Grayfur
Grassfur (formerly)
Redkit, Stoneclaw, Bramblefire, Thunderstorm, and Racerbird
Grandkit(s)
Edit
None
Relationships
Edit
Darkpelt
None
Love Interests
Edit
Grassfur (former mate) and Darkpelt
Education
Edit
Mentor(s)
Edit
Sandfur and Whitestripe
Apprentice(s)
Edit
None
Fanfictions
Edit
Thunderheart's Legacy
Edit
Spottedpetal is a main character in Thunderheart's Legacy. She is in "Section two: Thunderheart's Strength," "Section three: Spottedpetal's Caress," and "Section four: Stoneclaw's Ambition."
Main Points
Edit
Spottedpetal's born. (Page 28)
Spottedpetal is made an apprentice. (Page 30)
Spottedpetal goes to her first gathering. (Page 35)
Spottedpetal's friend, Dustpaw, dies. (Page 39)
Spottedpetal's sisters are born, but two of them are stillborns. (Page 41)
Spottedpetal finds out that Grassfur loves her. (Page 44)
Spottedpetal realizes she has feelings for Grassfur. (Page 46)
Spottedpetal is made a warrior. (Page 47)
Spottedpetal becomes mates with Grassfur. (Page 48)
Spottedpetal witnesses the destruction of SkyClan and the death of Stormstar. (Pages 48 to 49)
Blazepelt relays this message to Spottedpetal: "Thunderheart's legacy is a legacy of which will blaze through the forest in an unending inferno...His legacy is that of loyalty, courage, caress, and nobility," and she tells Spottedpetal that Thunderheart will die. (Page 50)
Thunderheart dies. (Page 54)
Spottedpetal helps drive out Nightstar and his followers from ShadowClan. (Pages 57 to 58)
Spottedpetal's first litter is born: Redkit and Stoneclaw, but Redkit dies overnight. (Page 59)
Spottedpetal finds out that Thunderheart spoke to Stoneclaw in a dream. (Pages 60 to 61)
Spottedpetal's mother has another litter: Mosskit, Treekit, and Stormheart, but Mosskit and Treekit die overnight. (Page 62)
Spottedpetal has her second litter: Bramblefire, Thunderstorm, and Racerbird and is saved from a fox by Blackpelt. (Page 69)
Spottedpetal finds out that her mate, Grassfur, has died. (Pages 84-85)
More Coming Soon
Cats killed by this cat
Edit
None
Post-Death Residence
Edit
Coming Soon
Spottedpetal: "Something you have to say?"

Grassfur: "I want you to be by my side, always, as my mate."



Spottedpetal is based off of another OC of Thunder's, Daystar.
Life image
Edit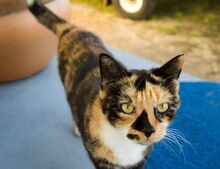 Ownership
Edit