Lightningclaw is a broad-shouldered orange tabby tom. He is a very muscular ThunderClan warrior. He has green eyes. Lightningclaw's motto sums up what he thinks of everything involving emotion: "I don't care," which ripped him away from his mate, Blazepelt.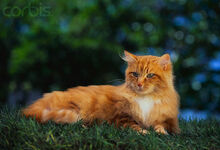 Lightningkit
Apprentice
Edit
Lightningpaw
Lightningclaw
Jaggedtooth
Cherrypelt
Brother(s)
Edit
Brokenface
Sister(s)
Edit
Hollykit
Half-brother(s)
Edit
None
Half-sister(s)
Edit
None
Grandfather(s)
Edit
Wolfstar and Blackpelt
Grandmother(s)
Edit
Flowerwillow and Grasstail
Great-grandfather(s)
Edit
Vineleg, Fishpelt, and Ashmoon
Great-grandmother(s)
Edit
Rivermist, Hollybreeze, and Whitepebble
Redjaw
None
Cousin(s)
Edit
Hawkstar
Blazepelt
Thunderheart
Grandkit(s)
Edit
Spottedpetal, Smallfoot, Silverstorm, Driftwillow, Treekit, Mosskit, and Stormheart
Relationships
Edit
None
Wolfstar and Tigerfire
Education
Edit
Mentor(s)
Edit
Stormstar
Apprentice(s)
Edit
None
Fanfictions
Edit
Thunderheart's Legacy
Edit
Lightningclaw is a main character in Thunderheart's Legacy. He is in "Section one: Lightningclaw's Pain" and "Section two: Thunderheart's Strength." 
Main points
Edit
Lightningclaw's sister, Hollykit, is killed by a dog. (Page 3)
Lightningclaw's mother, Cherrypelt, is killed by Wolfstar. (Page 5)
Lightningclaw and Blazepelt become mates. (Page 10)
Lightningclaw's son, Thunderheart, is born. (Page 13)
Lightningclaw is killed by Riverstar. (Page 13)
Flamestar's Struggle
Edit
Coming soon
Cats killed by this cat
Edit
One: Tigerfire
Post-Death Residence
Edit
StarClan
Trivia and Quotes
Edit
"I don't care." - Lightningclaw's motto.
Lightningclaw is based off a Transformer named Shockwave :P
Ownership
Edit
Thunderheart...with his sidekick, Grasspaw! 02:26, July 26, 2015 (UTC)
Shockwave belongs to Hasbro.
Ad blocker interference detected!
Wikia is a free-to-use site that makes money from advertising. We have a modified experience for viewers using ad blockers

Wikia is not accessible if you've made further modifications. Remove the custom ad blocker rule(s) and the page will load as expected.